Snipping Tools, also known as Screenshot Capturing Software, are useful programs that allow you to snap screenshots of your computer screen or a portion of it. Some complex programs even have a specialized capability for capturing on-screen movements in order to record the screen, as well as image editing and other features.
Here are some major benefits of using a screen grabbing tool:
Use screenshots as a part of your daily routine.

Want to record screens for creating quick & disposable videos.

Make animated GIFs from a screen recorded video.

Powerful image editing capabilities to make professional-looking outputs. 
---
1. TweakShot – Perfect Screen Capture Tool
Latest Version: 1.0.0.21121
Compatibility: Windows Only
TweakShot can be described as powerful, effective, and nifty, to name a few adjectives. It is now one of the best Windows Snipping Tool alternatives on the market. It comes with a fantastic range of tools for screen capture. TweakShot may take screenshots of a single window, a specified region, full screen, or scrolling screenshots. Not only that, but the snipping software may also be used for screen recording. The program has a powerful Image Editor as well as well-crafted and professional outcomes.

Features:
Multiple modes for capturing screenshots.

Ability to capture active Windows screenshots.

Just scroll the web page & grab it all with just a click.

Powerful screen color picker tool.

Strong image editing tools.

Record on-screen activities in a click.

Upload screenshots to Google Drive, OneDrive, or Dropbox.
2. Snagit – Suitable Choice For Presenters, Journalists, Bloggers & IT Workers
Latest Version: 21.2.0
Compatibility: Windows & Mac
Snagit is a lot more than just a screen capture program. It has a comprehensive set of capturing and editing tools, all housed in a user-friendly interface. The preview window in this snipping tool offers a zoomed thumbnail shot of whatever your cursor is hovering over. You can choose the preferred capturing format from the main screen, whether you want to capture the entire screen or just a section of it. Although the photo snipping tool is more expensive than its competitors, its versatility and functionality remain unrivaled.
Features:
Supports capturing the entire screen or selected portion.

Preview option to check the captured screen.

In-built Snagit Editor to refine the captured screenshot.

Share the final image with your friends, family, etc.

Supports screen recording as well.

Supports importing images from scanners & cameras to capture text from an image.
3. Ashampoo Snap 11 – Premium Photo Snipping Tool
Latest Version: 12.0.2
Compatibility: Only Windows
Ashampoo Snap, which comes with all of the normal and advanced features of the Best Snipping Tool for Windows 10, is our next pick for getting screen capturing tasks done quickly. The program comes with a built-in editor that allows you to crop the video, export it as a GIF or WMV, or add it. You may even modify previously saved photos with the sophisticated photo/video editor. Ashampoo Snap 11 allows you to capture a single window, the entire screen, a rectangle region, a webcam recording, and a custom size.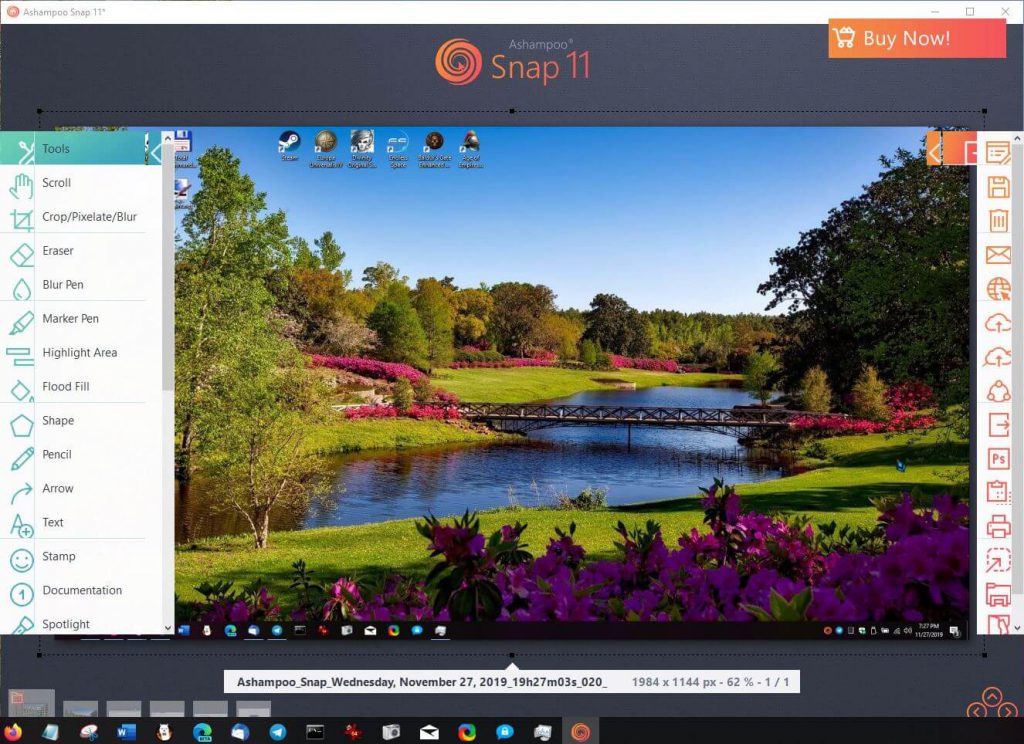 Features:
While screen recording, you can capture on-screen movements as well.

Interactive image & video editor tool.

Export video as GIF animation or save it to the Cloud.

Allows you to capture free rectangle region, custom region, freestyle region, etc.

Supports capturing scrolling windows in three modes: Website, Freestyle, Text.

Helps in creating time-lapse videos.
4. ShareX – Superb Alternative to Windows Snipping Tool
Latest Version: 13.4.0
Compatibility: Windows, macOS & Linux
ShareX is another free and open-source screen capture and recording program that lets you snap a screenshot of any part of your screen and share it with a single click on Google Drive, Dropbox, Twitter, and other popular networks. ShareX's high-quality snipping tool has a lot to offer, including a rather good photo editing tool for tweaking your screen captures before you use them. What distinguishes ShareX from its competitors? The ability to start a delayed screen capture using a single keyboard shortcut.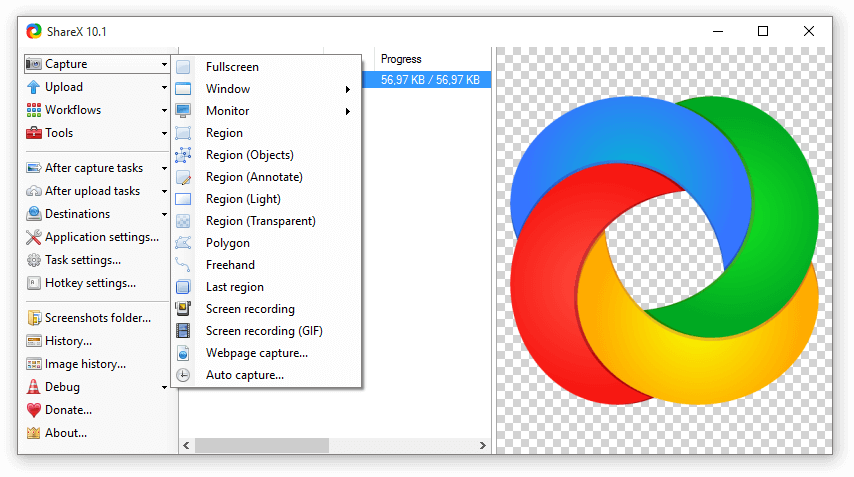 Features:
Supports capturing the entire screen, on-screen movements, or specific window.

Hassle-free screen capturing tool – intuitive dashboard.

Share captured screens and enhance productivity.

It allows users to take scrolling screenshots as well.

Add image effects & watermark according to your convenience.

Store & save all your screenshots & recordings on Cloud storage platforms.
5. Screenpresso – Most Lightweight Screen Snipper
Latest Version 1.9.9
Compatibility: Only Windows 
Screenpresso is one of the best Windows Snipping Tool alternatives. It's completely free to use and comes in helpful when you need to swiftly capture and alter screens. It's a multi-platform, high-quality snipping program that can record screens with audio and export screenshots in a variety of file formats. It features numerous capture modes as well as hotkey support. When it comes to the user interface, it is simple and straightforward; mastering the program will only take a few minutes.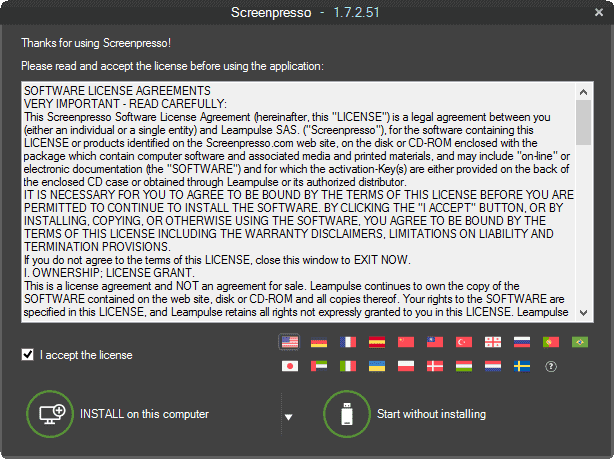 Features:
Ability to screen record.

Comes with an integrated image editor.

Allows you to annotate screenshots you've taken.

Ability to highlight images with arrows, colorful bubbles & more.

Export in any popular file format of your choice.

Saves all recent screen capture history.
6. Greenshot – Feature-Rich Free Snipping Tool
Latest Version: 1.2.10.6
Compatibility: Only Windows
Greenshot is a simple and easy-to-use snipping application for Mac and Windows that has many of the same capabilities as its commercial rivals. Greenshot allows you to capture entire web pages or particular sections of the screen fast and easily. You can also add annotations, arrows, boxes, signs, and other components to your captured screen to make a demonstration image. Project managers, software developers, testers, technical writers, and others can benefit from a greenshot screen snipper.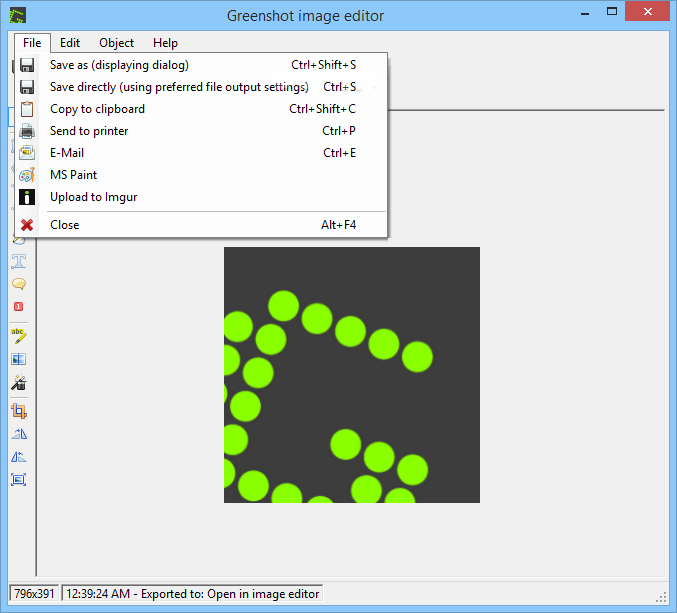 Features:
Quickly capture screen for a selected region, full screen & scrolling webpages.

Captured images can be easily modified using the in-built photo editor.

Supports annotating, highlighting particular parts & obfuscating screenshots.

Offers a variety of exporting methods to save, send, copy, share files.
7. LightShot – Best Snipping Software For Beginners
Latest Version: 5.5.0.7
Compatibility: Windows, macOS, Chrome, Firefox, Opera & IE
LightShot is a multi-platform screen snipping tool that works with Google Chrome, Internet Explorer, Mozilla Firefox, and Opera, as well as Windows, Mac, and web browsers. After capturing the desired screenshot, you can use LightShot's extensive editing features. To get high-quality results, start cropping, adding filters, and dozens of special effects. It's a portable snipping tool, so instead of installing an.exe file, you'll find it as a hidden icon on your Taskbar when you download it. To start the program, simply press the "Prt Sc" key.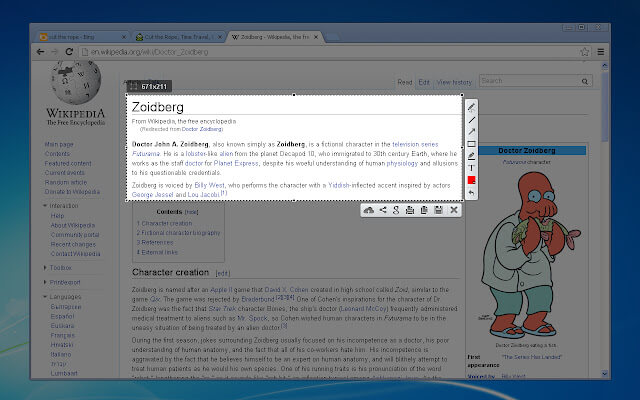 Features:
Fastest way to take customizable screenshots.

Powerful image editor to refine the quality of the image.

Similar image search which works like Reverse Image Search Engine.

Click & drag the cursor on the chosen screenshot area to capture.

Attractive color picker tool.
Latest Version: 2.7
Compatibility: Windows & Mac
Meet DuckLink ScreenCapture, a handy but powerful snipping application for PC and Mac that allows you to capture different sections of the screen, particular locations, and shapes with significant customizability. DuckLink ScreenCapture offers picture modification with comments, filters, effects, text, arrows, signs, shapes, and other components, similar to other common snipping programs. Hotkeys can be used to take screenshots while playing a game, and DuckLink ScreenCapture will save them to your hard drive for later use.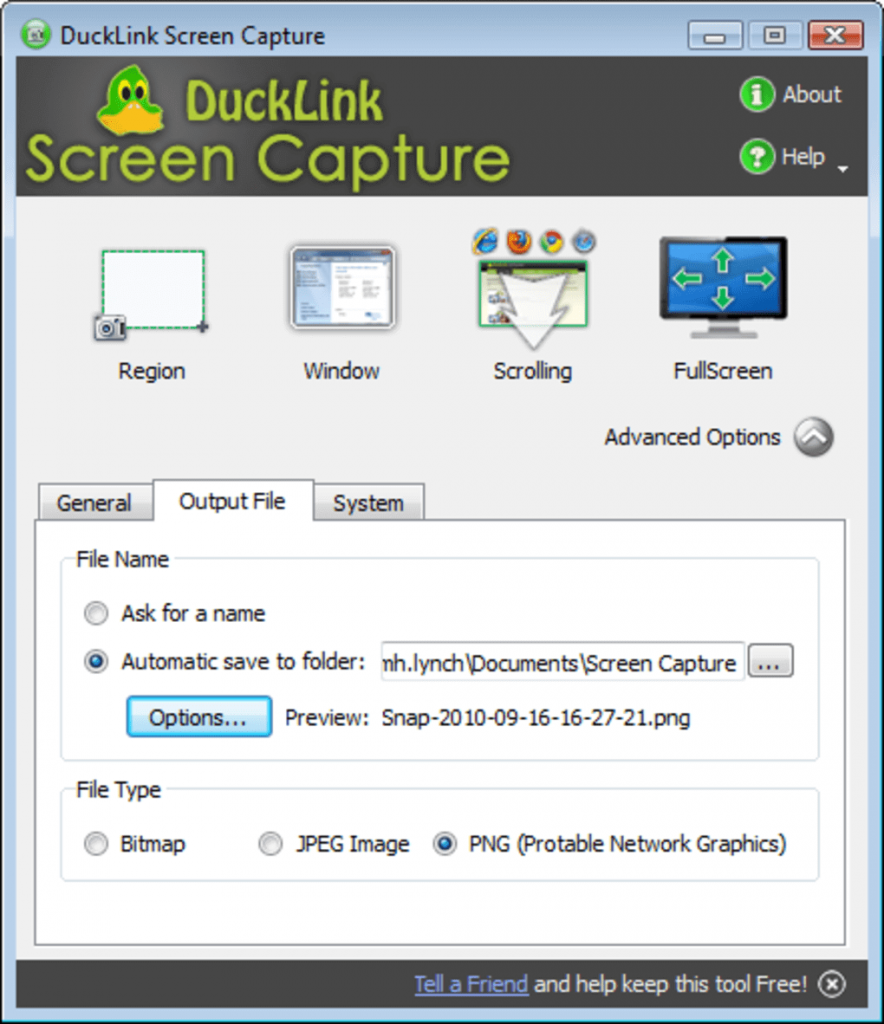 Features:
Can capture 4 types of screenshots – Region, Single Window, Scrolling & Full.

Allows you to set automatic naming conventions.

Use hotkeys for capturing different types of screenshots.

Rich tools for fonts: family font, font size, color & so on.

Option for adding written notes in the captured images.
9. PickPick – All-in-one Designing Software
Latest Version: 5.1.4
Compatibility: Only Windows
PickPick is one of the best alternatives to the Windows Snipping tool. It allows users to simply take a variety of screen photos and includes an excellent photo editor that allows you to tweak and save the captured screens. PickPick includes features such as text overlay, creating shapes, and blurring and pixelating insignificant sections. Additionally, this screen snipping tool makes resizing, cropping, and rotating screenshots a breeze.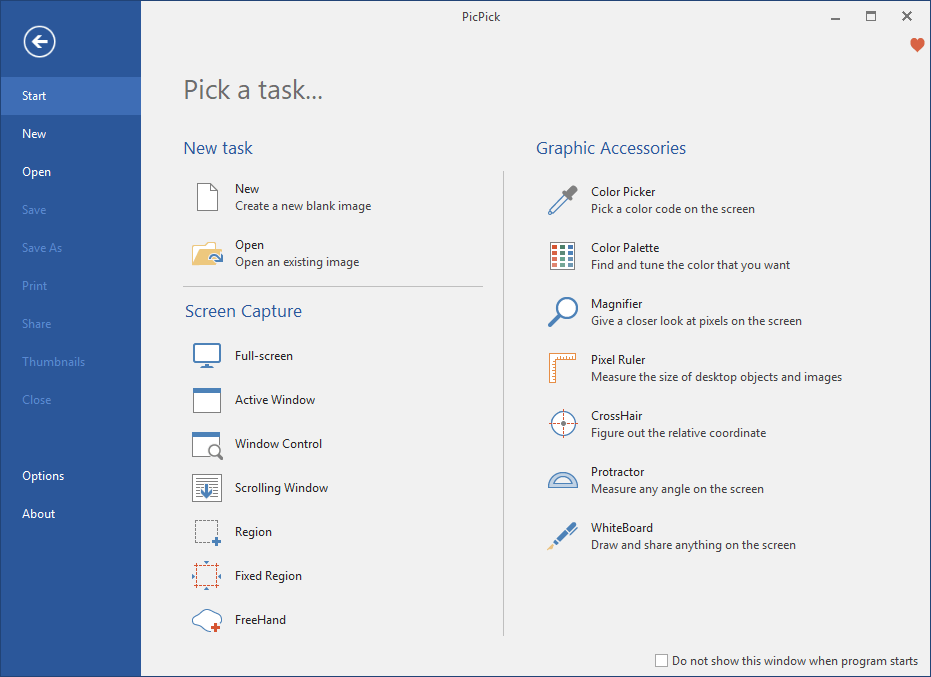 Features:
Can capture the entire screen, specific region, or scrolling screenshots.

Impressive set of editing tools to add effects like shadows, frames, watermarks, etc.

Loads of additional features like magnifier, crosshair, pixel ruler, etc.

Tons of settings for customization like modifying a hotkey for capturing or renaming files in a hassle-free way.

Capability to share screenshots using email or cloud storage services, including Google Drive, Dropbox, etc.
10. Screenshot Captor – Advanced Graphic Screen Capture Application
Latest version: 4.36.2
Compatibility: Only Windows
Last but not least, Screenshot Captor is a free snipping application for Windows that is worth considering. It allows you to take screenshots of still photographs in specific locations, capture full windows, and browse between displays with ease. In addition, the tool allows you to record photographs using your webcam. For users of Windows XP and later versions, Screenshot Captor is available in both installable and portable versions. It is available for personal use at no cost, and it is funded by donations rather than advertisements.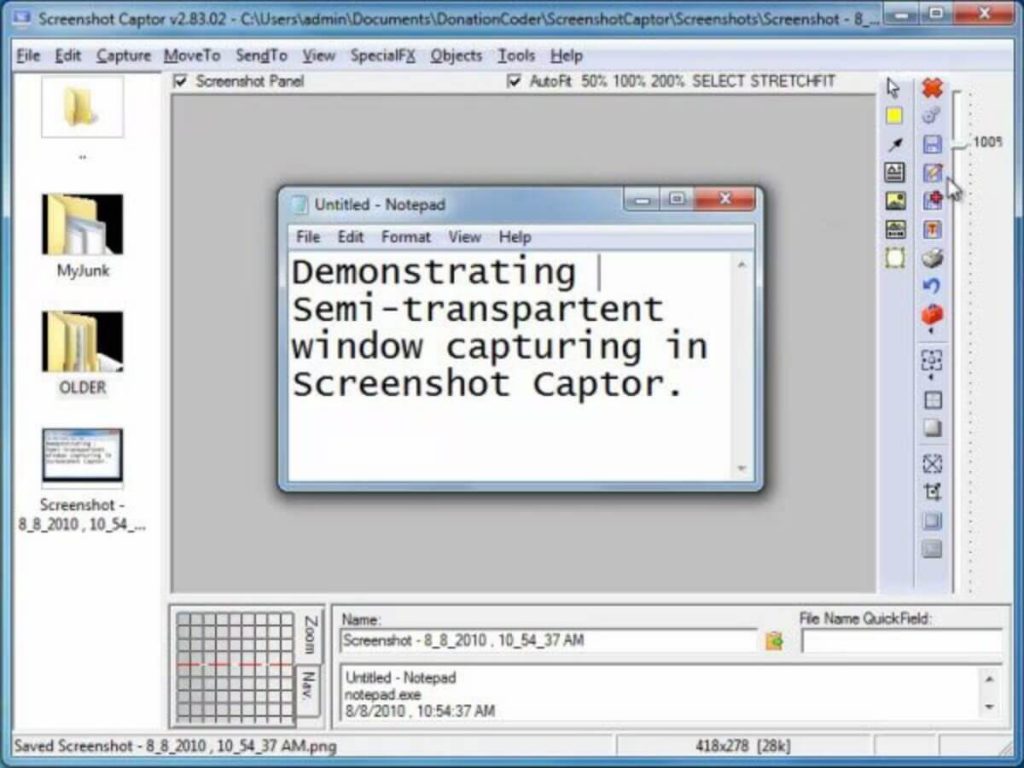 Features:
Ability to grab screens, edit, annotate & share snapshots.

Built-in image editor to remove unwanted parts.

Several export options to get the desired results.

Functionality for adding watermarks & special effects.

Allows you to capture the cursor, delay screenshots & print or upload images.
---
Click here to read more useful and interesting articles.