Cryptocurrency has been a crazy journey, and it continues to be so.
With the price of bitcoin and other cryptocurrencies increasing again, cryptomining, is a means to collect cryptocurrency for free.

Let's look at what makes a decent cryptomining rig and what equipment you'll need if you're serious about mining.
What is cryptomining?
On the most basic terms, you're solving cryptographic equations using a computer (or computers) and recording the results in a blockchain.
To elaborate, miners verify the hashes of unconfirmed blocks and are rewarded for each hash that is verified.
Mining is a computationally expensive operation that necessitates cutting-edge gear if you want to make significant progress. Mining is not for the faint of heart, as it was in the days of the gold rush.
And, as with other high-end systems, the question isn't so much how much you want to spend as it is how quickly you want to spend it.
So, what kind of hardware is required to mine cryptocurrency?
What is a cryptomining rig?
The "rig" is just a personal computer that has been configured. It has all of the standard PC components, such as a CPU, motherboard, RAM, and storage. When it comes to graphics cards, things get a little out of hand.
When it comes to cryptocurrency mining, it's the GPU, not the CPU, that does the heavy lifting. For mining, you'll need a fairly strong GPU, and you'll almost certainly need more than one.
A great deal more.
In fact, a mining rig can be as a low-cost PC with one or more high-performance GPUs attached.
Multiple graphics cards must be connected to a single system, which necessitates the use of a motherboard.
If you're going to push things to their limits, you'll need more than one power supply unit (PSU).
You'll also need a few more mining-specific equipment to get the mining rig up and running.
Mining rig considerations
When constructing a mining rig, keep the following points in mind:
It isn't going to be inexpensive!

Power consumption should be factored into your mining equation because it might cut into your profits.

Because you're not creating a standard PC, getting things to work might be a trial and error process involving a lot of tweaking with drivers. Be patient!
---
Two reasons are causing prices to rise:
Backlogs are caused by supply chain concerns.

Most cards now have LHR (Lite Hash Rate) to limit mining speeds, making them less appealing for cryptomining. This is to prevent high demand from miners generating even more troubles.

Because the cards mentioned below are not limited, the price makes them ideal for mining.
---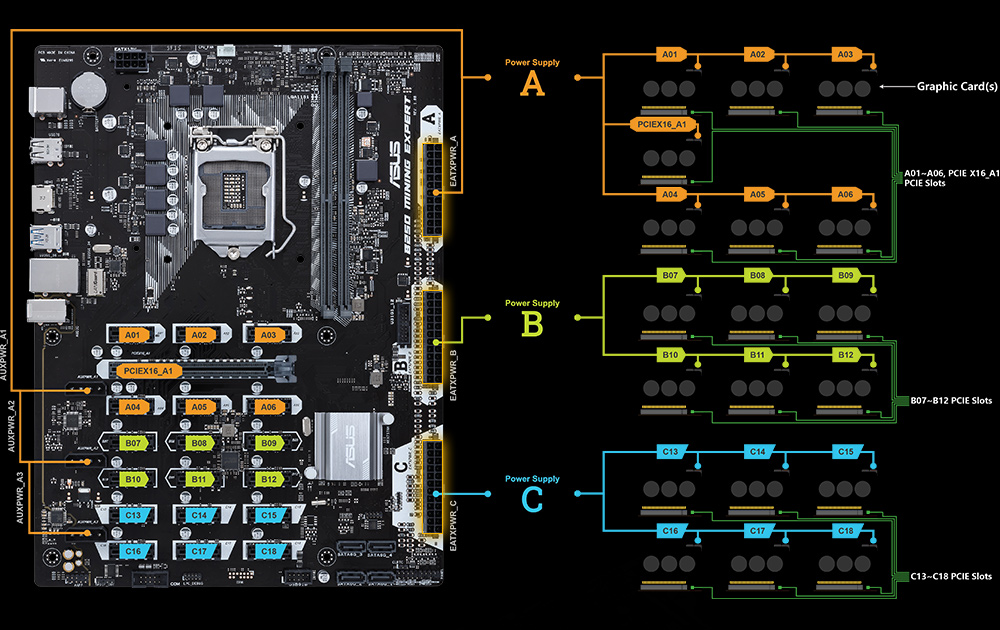 Let's start with the motherboard, shall we?
The Asus B250 Mining Expert is a monster of a motherboard that can support up to 19 graphics cards.
That's a lot of information. The board isn't brand new — it was released in 2017 — and it's a pain to set up (it needs a specific layout of AMD and Nvidia graphics cards),
For this board, Asus has recommended GPU layouts for 19-, 13-, and 11-cards, and while other layouts might work, I recommend sticking to what the manufacturer recommends, as straying from this is a recipe for major — and costly — headaches.
Overspending on a CPU for a mining rig is pointless because it's the GPUs that do the heavy lifting. This quad-core Core i5 processor is ideal for this arrangement and pairs well with the motherboard mentioned above.
You're not going to overspend on RAM either. The motherboard supports DDR4 2400, and this 2x8GB kit from G.SKILL fits the bill.
Storage
I'd put a pair of these 1TB SSDs in there. They're ideal for this application because they're under $100 each.
You could use HDDs, but I personally prefer SSDs these days.
You may need many PSUs depending on how many graphics cards you have installed.
It's tempting to go for the cheapest option, but given how hard they'll be pushed, I advocate spending a little more.
These Segotep PSUs are a nice middle-of-the-road price, yet they deliver consistent performance.
Because it's modular, you won't end up with a tangle of wires on your mining equipment.
Even if you've built a PC before, I'm sure you've never had to deal with PCI-E risers. A bitcoin mining rig varies from a conventional PC in that all of the graphics cards cannot be directly connected to the motherboard, thus risers are used to link them indirectly.
For each card you attach, you'll need one of these (other than the card that goes into the x16 PCI-e slot). This six-pack of powered risers is fantastic and ensures that your graphics cards have consistent power.
This is a fantastic card that has everything you need in a mining rig. Overclocking potential abounds, as well as stability and excellent cooling. Another plus is that it's a rather efficient card, resulting in decreased power usage and cheaper mining costs.
And, unlike many modern graphics cards, it lacks the LHR (Lite Hash Rate) feature that limits mining speeds.
24GB 384-Bit GDDR6X

Boost Clock 1725 MHz

1 x HDMI 2.1 3 x DisplayPort 1.4a

10496 CUDA Cores

PCI Express 4.0
Read more about cryptocurrencies, by clicking here.